Is someone you love graduating from university? If you've decided to host a graduation party for your loved one or to celebrate your achievements with your fellow classmates, then look no further. We know that planning a graduation party can be stressful. However, with a little advanced planning and the help of our guide, you can elevate the stress and enjoy the party! Here are our top tips on hosting and planning a memorable graduation party, from party menus to catering and everything else in-between.
How to Plan a Graduation Party
Two months prior to the ceremony
• Figure out your budget
The dreaded numbers game - creating a budget is arguably the worst part of party planning – there's so much to think about. And you might be tempted to jump straight into the fun parts of the planning process, but without thorough planning, you're setting yourself up to overspend. If you'd like to learn more about managing your event budget, check out this insightful article.
We recommend you start by establishing how many guests you're inviting. Is the party free for all or strictly close friends and family? The answer might vary depending on yours or your graduate's preferences, so don't be afraid to ask first if needed! Then you'll want to consider the two most costly factors the venue and food. Are you hosting the graduation party at your home, or do you need to budget for a venue? Then you'll want to consider what food you'll be serving. Will you splurge your budget on a set meal, or will you opt for cost-effective finger food?
• Create your guest list
Everyone has a different idea of who should be invited to a graduation party. So, if you're planning the party on behalf of someone else, we recommend you sit them down and figure out their ideal guest list. Ideally, guests for a graduation party include family members, friends and family and any other people that play a significant part in the graduate's life. The guest list will be influential in a number of your other decisions, so you really need to nail it from the get-go.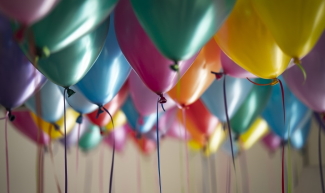 • Choose a location
Now you've figured out how many people you want to invite. The next decision is where are you going to have this party? A great place to start is the family home. However, this may not be possible depending on where the graduation venue is. Either way, the space you pick needs to be big enough to host the event. Maybe you have a friend at university or a family member who will be happy to share their space if it's bigger? If none of these options is viable, you could always rent a local hall or even host the event outdoors under a marquee, that is – since you can't trust the British weather!
• Send your invitations
Once you've got a rough idea of how many people will be coming, you can start sending your invitations. Graduation party invitations should be sent at least four weeks ahead of time, but it's better to send them as soon as possible! That's because it's easier to manage RSVPs and track attendance if guests have time to plan ahead.
Making graduation invitations yourself can be personable and a fun project for your family or friends. Or, if you're too busy with your planning, you can always just buy them online. Don't forget to include all the important information on your invitations, including the date, time, address and any other information your guests need to know.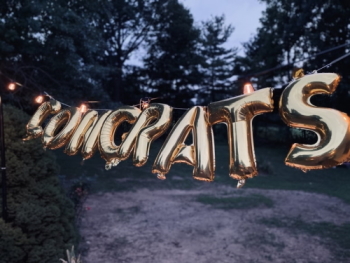 • Plan the menu
Graduation parties are a time for celebration and, of course, food. Planning a delicious graduation party menu doesn't have to be stressful; it can actually be a lot of fun. The type of food you opt for will depend on the theme of the party. If you're throwing an informal party, you can plan a buffet-type affair with plenty of appetisers, snacks and finger foods. Or you can opt for a more formal sit-down meal.
One Month prior to the ceremony
• Choose a theme and find your decorations
A theme is a quick and easy way to pull together your party décor, invitations, menu and party favours. Choosing a theme can make planning easier since you have to decide on just one cohesive idea instead of juggling several conflicting ideas. However, your theme doesn't need to be elaborate; you can always keep things simple.
You can add a personal touch to the theme by placing photos of the graduate or you and your university friends around the tables – allowing loved ones to reflect on the past few years. If you want to make the extra effort, you can incorporate a colour theme. A popular option for graduate parties is black and gold. There's such a wide range of party props on the market; you'll easily find items to kit out your venue. With themed cutlery, balloons, sashes, banners, photo booth props and much more.
• Organise your music
Graduation parties are celebratory events, and they often involve music. If you're planning a graduation party, it's important to organise the right entertainment. Music sets the tone for the party. If you're hiring an outside DJ, you'll want to get them booked in at least four weeks before the day to avoid disappointment. If you are organising your own music, you'll need to make time to create your own playlist and arrange your ideal sound system. Finally, you need to consider the kind of music your guests will enjoy. You'll want to strike a balance between creating an upbeat atmosphere and keeping your guests comfortable.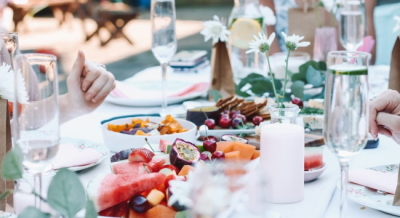 Two weeks prior to the graduation
• The final touches
Two weeks ahead of the graduation party is the perfect opportunity to do any last-minute preparations. Maybe create a slideshow or frame a few of your favourite photos. Or try your hand at creating personalises gift bags or cupcakes with toppers.
• The days ahead of the ceremony
On the day of the party, you'll want to be as organised as possible. Here are our top tips to ensure you're prepared for the day so you can focus on being the most confident host.
Graduation preparation list
1. If you're hosting your party at home, then you'll want to clean the house and the garden to make space
2. Let your close neighbours know that you are having a party
3. Charge your camera the day before and double-check you have enough memory for photos
4. Make sure you have plenty of bins for rubbish
5. Ensure you have enough toilet roll in the bathroom for guests
6. Finalise any last-minute details and decorations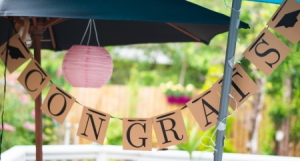 • Welcome your guests
The big day has arrived, and it's finally time to host the graduation party. If you've followed our graduation preparation list, everything should run smoothly! Whether you're throwing a party for your own graduation or for someone else, it's time to welcome your guests and all that's left to do is enjoy the party.
So, now you know how to plan a graduation party! If you require further assistance, don't hesitate to get in touch with our friendly team, who are more than happy to help. In addition, if you have a graduation party coming up, why not browse our range of graduation souvenirs? They make the ideal gifts to celebrate any graduation.