If you're looking for perfect home graduation ideas to make their graduation a day to remember, you've come to the right place. Thousands of graduates across the globe have missed out on so many traditional, milestone events this year, so going all out with an at-home graduation celebration is a must if you're unable to attend the ceremony.
17 Ways to Celebrate Graduation at Home
1. Go all out with a graduation gown
A traditional graduation ceremony would be incomplete without graduates dressed head-to-toe in their caps and gowns, so why should an at-home celebration be any different? Most graduates will only have one opportunity to wear this classic ensemble, and it's a must for those staple graduation photos.
Buying a gown doubles up as a special keepsake and it can be reused by family members or friends. Or, there's always the option to hire a gown which is typically a more affordable choice.
For a special touch, it's a great idea to accessorise with a graduation stole and colourful tassel. We have graduation stoles available for certain universities and you can customise them, too.
2. Decorate in style
One of the easiest home graduation ideas is to decorate in style. Transform your living room or garden so they feel like they're not at home! Blow up balloons, hang up bunting, throw the confetti, create some banners – let your creativity run wild.
Our graduation packages come with a congratulatory banner, which is the perfect starting point.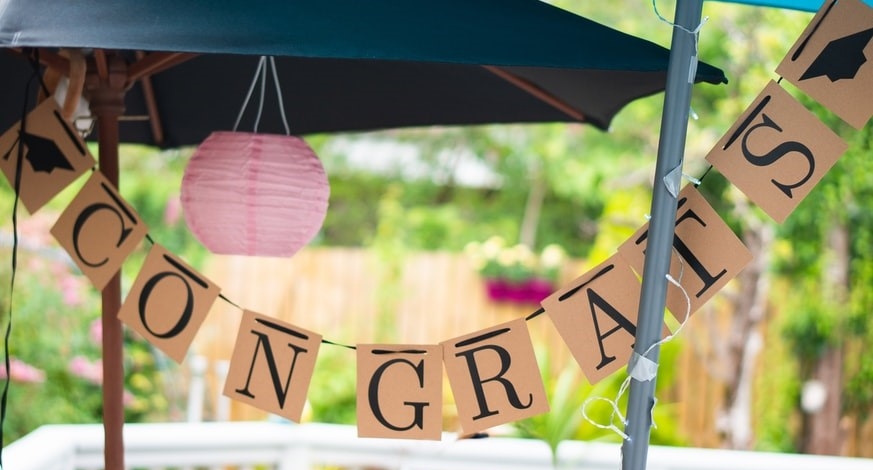 3. Send out invites
Most institutions have organised virtual graduation ceremonies, which (in most cases) means the guest number is unlimited. No more trying to hunt down a spare ticket or two for your siblings or grandparents – with a virtual event, everyone can tune in!
So why not send out formal invites to your family and friends? This is a fun way to make the event more official and get the whole family involved.
4. Host a virtual graduation party
We're all experts at Zoom events by now, so organising a virtual graduation party should be a piece of cake! This is one of our favourite graduation at home ideas because it brings everyone together and is a lot of fun. You could ask everyone to dress up for the occasion, have a drink on hand to 'cheers' the graduate and play a game or two. Zoom quiz, anyone?
5. Cook a special breakfast
A graduation celebration should be a whole-day affair, so begin the day with a special breakfast. Cook their favourite breakfast and enjoy it as a household. Banana pancakes? Avocado on toast? Poached eggs? Prep a hearty meal and start the day off right.
6. Pour the Bucks Fizz
Nothing quite kicks off a day of celebrations like a Bucks Fizz. Get the champagne glasses out and cheers to the graduate. Why not make it really special for them and order an engraved champagne glass to use on the day?
7. Set up a graduation photoshoot
Photos are an essential for any milestone event, so don't forget this important part of the graduation celebrations. Smartphone cameras are pretty incredible now, so don't feel you need to go all out with a photographer or a professional camera. Find a spot with good lighting and a clear, fuss-free background for some headshots (and their LinkedIn profile!) before taking some more relaxed pictures.
8. Follow a dress code
Just like you would at a normal graduation ceremony, make sure everyone who's attending the at-home or virtual ceremony is following the dress-code. Put down the hoodie and tracksuit bottoms and dress to the nines. This idea will make the at-home graduation ceremony feel extra special, and it means you can capture some great family photos.
9. Give a commencement speech
One of the benefits of a home graduation ceremony is that you can present your own commencement speech that's personal to the graduate and their life. Watch some YouTube videos for some inspiration and surprise them with a short speech that will make their day.
10. Don't forget the scroll
The diploma scroll is another staple of a traditional graduation ceremony. It makes those classic graduation photos, so don't forget it when celebrating at home.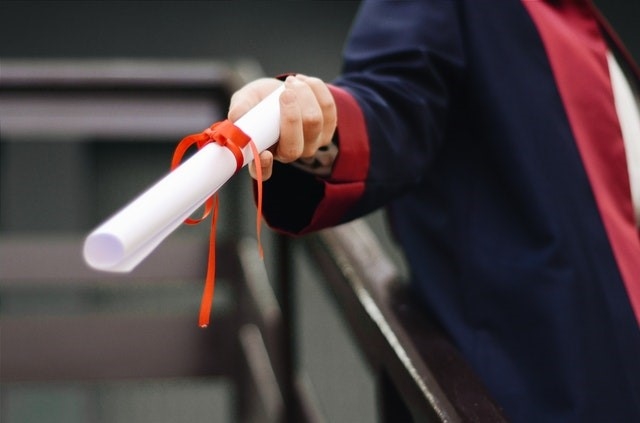 11. Deliver flowers
Flowers are a special way to show your loved one that you're thinking of them on their big day, even if you can't be there in person. They also make a beautiful addition to graduation décor and a great photo accessory! Bouquets can be easily ordered online, and there's an abundance of letterbox flower delivery companies to choose from.
12. Decorate with photos
Hanging up photographs of the graduate is an affordable and sentimental decoration idea. Hang up photos with their friends from school or university, highlights from their academic career, and any extracurricular activities they were involved with.
Why not go the extra mile and ask your family members to send in photos from their graduation, too? You may uncover some gems that the graduate hasn't seen before.
13. Frame their graduation certificate
It's important to keep their graduation certificate safe and in pristine condition, and a specialist frame will help you do just that. What's more, displaying their certificate nicely and in pride of place will make them feel especially proud.
14. Virtual campus tour
A virtual campus tour is a fun stay at home graduation idea. If you're celebrating a sixth form graduation and they're heading off to university, take a virtual tour of their future school's campus. Or, if you're celebrating a university graduation, ask them to give you a virtual tour, showing you where their department building, first year dorm and student union is.
15. Video messages
Ask their friends and family members to film a quick video sending good wishes and congratulating them. You can then put the clips together into a video montage and share it with them on the big day. This is a lovely home graduation idea and is something they will keep and look back on for years to come.
Top Tip: Specify if you want everyone to capture portrait or landscape videos. This will make the final video look more unified and sleeker!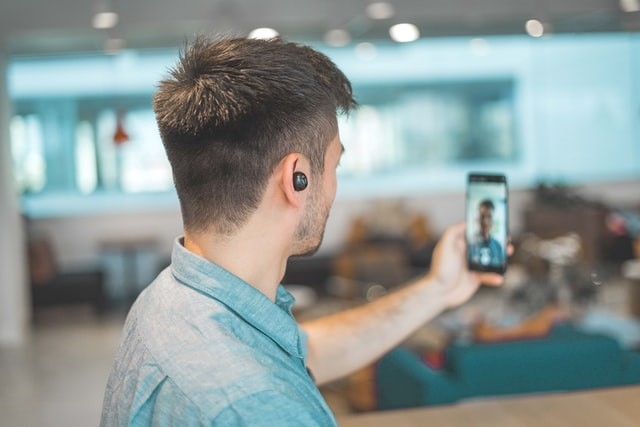 16. Play some games
Round up the day with some fun-filled games, guaranteed to make the whole family laugh. You could put a graduation spin on a classic game, like charades, Pictionary or hang-man. Or, you could always dust off your favourite board game or put together a quiz. If the weather is nice, why not bring the games outdoors and put together a mini sports day of sorts?
17. Give them a special graduation-themed gift
Graduating from school or university is a huge achievement, so it makes sense to give your loved one a special gift to mark the occasion. You can't go wrong with a sentimental present, such as a classic graduation teddy. Or, why not order a brass plate replica of their graduation certificate for something a little more unique?
We hope these home graduation ideas have provided you with inspiration to organise a day they'll never forget! For more advice on hiring or buying caps and gowns, please contact our friendly team for more information.